The 2020 RC F Track Edition
Lexus is Lighter
Lexus elevates the automobile industry to another level with the release of the new 2020 RC F Track Edition. One of the ultra white 2020 RC F Track Edition models is currently being showcased in Whippany, NJ at the Lexus of Route 10 Dealership owned by the Celebrity Motor Car Company.  Production was curbed at 400 units globally, with only 50 of the models being sold in the United States. Why does this newly arrived RC F Track Edition have a base price of $97,675, especially when the standard RC F is roughly $30,000 less? Here's why: In comparison to the previous 2019 RC F model, both the standard RC F and RC F Track Edition have improved horsepower and torque, as well as a standard navigation system and optional rear spoiler.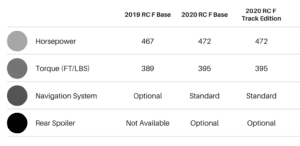 The 2020 Track Edition is making noise in the industry, literally and figuratively, with a V8 engine and a titanium exhaust muffler that adds a stimulating resonance. With a new electronic launch control system, the Track Edition hits 60 MPH in just 3.96 seconds, whereas the standard RC F model reaches 60 MPH in 4.20 seconds.  The main attraction for this special edition Lexus is its carbon fiber kit which includes a carbon fiber front spoiler, hood, roof, and fixed wing for major weight reduction. The combination of these selected materials, along with 19-inch ultra-lightweight forged alloy wheels and carbon-ceramic brakes, adds up to a curb weight of 3781 LBS, about 121 pounds lighter than the 2020 RC F base model. 
In the past, the Lexus RC F has struggled against competitors because of its mass, disturbing the vehicle's overall performance. Recognizing the previous issue, the 2020 Track Edition was manufactured with a higher concentration on shaving pounds wherever possible. These upgrades may come at a price, but it allows the car to be handled extremely well on the track and around town. This four-passenger performance coupe is measured to have a length of 185.4 inches, a width of 72.6 inches, and a height of 54.7 inches, the same dimensions as a 2020 RC F Base. Both of these 2020 models have an eight-speed sport direct-shift transmission, as well as electronic power steering (EPS) with 2.8 turns lock to lock.  The Track Edition's sleek design has a circuit red alcantara with red carbon fiber trim interior and either an ultra white or matte nebula gray finish (both shown below).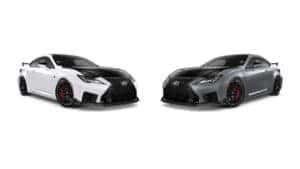 Under the leadership of successful entrepreneur Tom Maoli, this exclusive Celebrity Motor Car dealership has earned the 'Lexus' Best of the East Award' for the last 8 consecutive years. Not one of the other Lexus dealerships nationwide has achieved this feat. The Lexus "Best of the East" award represents the pinnacle of service achievement for a Lexus dealership. Dealerships earning this coveted distinction represent the absolute best of what the Lexus brand has to offer. Lexus recognizes the efforts of its dealer organization to provide world-renowned customer care, achieve service performance goals and dealership growth. In addition to winning The Best of The East in 2019, Maoli' s Lexus of Route 10 dealership also won the exclusive Lexus "Crown Jewel" Award in 2013, 2014, 2015, 2018 and 2019.   
For more information on this elite model or to set up a test drive, call (973)-319-7900.