Lexus Book Drive
A big thank you to everyone in our community and guests who donated books for the 2020 #LexusBookDrive. Our dealership
collected and donated a total of 240 books to RSVP's Reading Buddies program! Special thanks to local author Andrea Yerramilli who donated dozens of her award winning children's book, "Ralphie always Loved". http://andreayerramilli.com/
Due to all of the generous book donations, you helped give this story a very happy ending.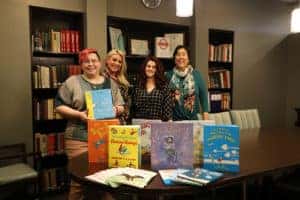 RSVP Reading Buddies program, a division of Jewish Family Service of MetroWest introduces the love of books and increases literacy in young children. It is funded by the Corporation for National and Community Service (CNCS) as part of Senior Corps. RSVP, established in 1971, is one of the largest volunteer networks in the nation for people 55 and over with 200,000 volunteers across the nation.  RSVP taps the rich experience, skills and talents of adults age 55+ to meet the needs and challenges of local communities all across America by placing volunteers in local agencies. Early literacy is linked with academic achievement, higher graduation rates and enhanced productivity in adult life.

JFS also offers a wide range of services for older adults and their families including case management services, counseling, caregiver education, volunteer friendly visitors and specialized programs for Holocaust survivors.  For more information, please call (973) 765-9050 or visit www.jfsmetrowest.org.   
Featured Left to right, Julie Cramer, RSVP Program Manager, Melanie Borden, Celebrity Motor Cars VP of Marking, Stephanie Grove, RSVP Director, and Diane Squadron CEO of Jewish Family Service of Metrowest New Jersey.